Precision Milling Technology
01

What are CadCam or Cerec crowns and bridges?
CadCam refers to a technique whereby the design of the crown is computer assisted (Computer Aided Design and Computer Aided Manufacturing) Cerec is really a brand name that refers to this type of crown, and can sometimes become the term used to describe this type of crown. The precision achieved by using this type of design is far superior to the old methods of using molds, and casting the crowns by hand.
02

Experience
Our laboratory work is performed by experienced technicians. Design, and manufacturing of a crown should not be left to the computer alone as there are many factors that one needs to consider in order to create both a successful function, and a beautiful appearance. Both our in-house and outsourced laboratory work is performed by trained professionals in the field of CadCam Dental Manufacturing.
03

Competitive Pricing
Our price on precision milled crowns for both in-house, and outsourced laboratory work is the best value in Puerto Vallarta.
We regularly compare prices with the community to ensure that we are continuing to provide the best value for our patients.
Quality standards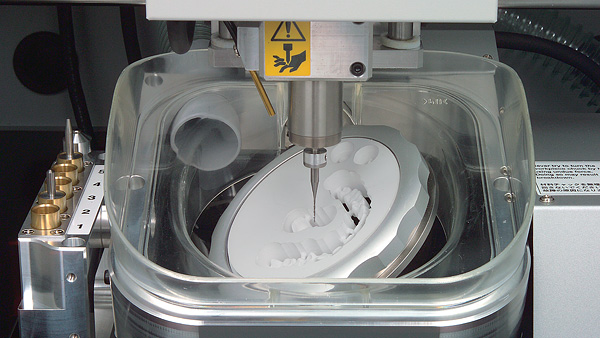 Quality Standards in Milling Equipment
The laboratory employs the use of a very high end milling machine that is much different than the miniature type equipment that is sometimes popular in some dental practices. The advantage that you have with a true laboratory level milling machine is that you're not confined to making crowns from pre-stained blocks of porcelain or zirconia, and you're not limited to single crowns, or very small bridges. By using a true 5 Axis full size milling machine, we can create anything from single crowns, all the way up to a full arch of teeth for full mouth rehabilitations.
Experience
Experience is important to us, and we think it should be for you too. This is why we trust our work only to professionals who have experience in this field. Our own in-house dentist who manages the laboratory division has over 30 years as a dentist, and over 10 years with CadCam technology. Our out-source laboratory which we use for special cases is the only dental laboratory in Puerto Vallarta that also uses a full 5 axis milling system. The advantage that comes with experience is avoiding the pitfalls of trying to create something that wont work. There's much more to making a crown than simply cutting it out, and cementing it on. Physical strength factors, and proper relationship to other teeth are imperative to long term hygiene and durability of your restoration, and should only be entrusted to an experienced professional