On google maps, you can see our location relative to various hotels, resorts, and even some bed and breakfast establishments. We're close to the airport, close to the beach, close to shopping, and there's even banking, and pharmacy service all within the comfort of the same indoor, air conditioned shopping center.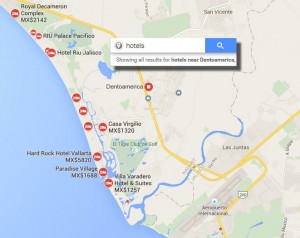 When you are checking out the hotels listed, please note the prices google shows for the hotels is probably not as realistic as you may find on priceline, bookit, expedia, or other websites. Generally you can probably find a better deal using a flight-hotel package with or without all-included food service.
If you would like to open this link in a full size browser page for better visibility, click on this link here.